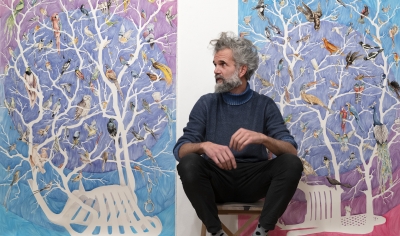 Eugenio Tibaldi (1977)
Artista da sempre attratto dalle dinamiche e dalle estetiche marginali, dal complesso rapporto fra economia e paesaggio contemporaneo. Nato ad Alba, nel 2000 si trasferisce nell'hinterland napoletano dove inizia un lavoro che indaga uno dei territori più plastici e dinamici d'Italia e traccia una sorta di mappa dell'informalità. Il margine, inteso come condizione spesso più mentale che geografica, che rappresenta l'unica via veramente in grado di generare possibilità alternative, altri livelli di lettura, che rappresentano la maggioranza della popolazione umana. Ha lavorato a Istanbul, il Cairo, Roma, Salonicco, Berlino, Verona, l'Avana, Bucarest,Torino, Caracas, Bruxelles, Tirana, Addis Abeba.
Fra le esposizioni : Fondazione Sandretto Re Rebaudengo, Torino (2007), Manifesta 7, Bolzano (2008),International Centre of Contemporary Art, Bucarest (2009),Museo Madre, Napoli (2010) Thessaloniki Biennale of Contemporary Art (2013), XII Biennale de L'Avana (2015), Museo Ettore Fico, Torino (2016), Palazzo del Quirinale (2017), Museum MCDA Manila, (2017), IIC new York (2017). Museo MAXXI, Roma (2018), Biennale di Venezia, Padiglione Cuba (2019), Museo del 900 Milano (2019).
Ha frequentato (CSAV), Fondazione Antonio Ratti, Como, Domus Academy ad Istanbul, è stato Affiliated Fellowship presso l'American Academy di Roma.
Sue opere sono esposte in istituzioni pubbliche e private in Italia e all'estero. Attualmente Vive e lavora a Torino.
Il suo lavoro completo è descritto nella monografia "Eugenio Tibaldi. Geografie Economiche", a cura di Sabrina Vedovotto, Maretti Editore 2014.
Dal 2001 collabora in modo continuativo con la galleria Umberto di Marino di Napoli.
Mostre personali
2022 "BALERA" Galleria Umberto Di Marino, Napoli, IT
2021 "architetture dell'isolamento" project curated by Angel Moya Garcia, Tenuta dello Scompiglio, Lucca (IT) "TEMPORARY LANDSCAPE" Erbari, Mappe, Disegni. Curated By Marco Scotini, PAV, parco dell'arte vivente Torino (IT)
2020 "Anthropogenic Connection" project curated by Adriana Rispoli and Meskerem Assegued, Zoma Museum, Addis Abeba. "Notturno con figura" curated by Lucrezia Longobardi, Site specific installation, Galleria Nazionale, Roma

2019

"After Leonardo", Curated by Iolanda Ratti, Museo del '900, Milano 30YEARSOLD, Realizzato dall' Istituto Italiano di Cultura di Tirana in collaborazione con l'Università delle Arti ed Harabel Contemporary Art Platform, Tirana - Galleria FAB "Più Là che Abruzzi",a cura di Simone Ciglia, MuMi Museo Michetti, Francavilla al Mare (CH)
2018 Posthumous Identity, Marie-Laure Fleisch Gallery, Bruxelles. INCLUSIO, a cura di Giuseppe Stampone, Centro Italiano di documentazione sulla cooperazione, Bologna, IT.
2017 Studio sulle "Architetture minime", a cura di Brunella Velardi, Art, do not disturb, Arte contemporanea a Palazzo Caracciolo Napoli, IT.
2016 Seconda Chance, a cura di Andrea Busto, MEF Museo Ettore Fico, Torino, IT. New informal museum's room, a cura di Simona Caramia, Complesso monumentale del San Giovanni, Catanzaro, IT. Capri B&B, a cura di Adriana Rispoli, Certosa di San Giacomo, Capri. Questione d'appartenenza, a cura di Fabrizio Tramontano,MADRE - Museo d'Arte Donnaregina, Napoli, IT, Cuba Informal Poker Room,Galleria Umberto Di Marino, Napoli, IT
2015 Red Verona, a cura di Adele Cappelli, Studio la Città, Verona, IT
2013 Archeologia / Contemporanea _02 – Giuseppe Stampone – Eugenio Tibaldi, a cura di Stefano Raimondi, Museo Archeologico Statale, Ascoli Piceno, IT
BUBO, Galleria Umberto Di Marino, Napoli, I
2010 Supernatural, Galleria Umberto Di Marino, Napoli, IT. Transit – 4, a cura di Adriana Rispoli, Eugenio Viola, Katerina Gregos, Project Room MADRE - Museo d'Arte Donnaregina, Napoli, IT, State Museum of Contemporary Art, Thessaloniki, GR
2008 My personal bridge, a cura di Francesca Boenzi, in collaborazione con Expòsito, Napoli e Plattform Garanti, Istanbul, TR, Castello di Terra Murata, Procida, Napoli, IT
2007 Paris Photo Statement, Galleria Umberto Di Marino, Napoli, IT, Points of view, Galleria Umberto Di Marino, Napoli, IT
2006 Geografie economiche, MiArt 2006, Milano, IT, Galleria Umberto Di Marino, Napoli, IT
2004 Landscape, testo di Tiziana Di Caro, Umberto Di Marino Arte Contemporanea, Giugliano, Napoli, IT
2001 Bestiario, testo di Simona Barucco, Umberto Di Marino Arte Contemporanea, Giugliano, Napoli, IT
2000 Berruti & Tibaldi, a cura di O. Gambari Galleria Maze, Torino, IT
Mostre collettive
2021 "Utopia Distopia: il mito del progresso partendo dal sud", curated by Kkathryn Weir, MADRE museum Napoli (IT)

2020 #ONUFRIREMADE curated by Elton Koritan /Ardian Isufi, National Gallery of Kosovo, Pristina, kosovo

2019 "WALL EYES. LOOKING AT ITALY AND AFRICA" Curated by Ilaria Bernardi, Johannesburg, Keyes Art Mile, Cape Town, 6 Spin Street, Roma, Fondazione Musica per Roma – Auditorium Parco della Musica "ENTORNO ALECCIONADOR (A Cautionary Environment)",curated by Margarita Sánchez Prieto, Biennale di Venezia, padiglione Cuba "MEN, ONLY MEN, SIMPLY MEN",Curated by Antonello Tolve, GABA.MC – Galleria dell'Accademia di Belle Arti di Macerata (MC) "BIENNOLO",1st NoLo Biennial, Art City Lab, Milano

2018 LA STRADA. Dove si crea il mondo, curated by Hou Hanru, MAXXI Museum, Roma ?WAR IS OVER. Arte e conflitti tra mito e contemporaneità, curated by Angela Tecce and Maurizio Tarantino, MAR - Museo d'Arte della città di Ravenna SENZA TEMA. Carta / Paper, Studio La Città, Verona PROCESSO ALLA NATURA, Galleria Umberto di Marino c/o spazio Maria Calderara Milano.
2017 FLATLANDS, MCAD Museum of Contemporary art and design, Manila, Philippines, a cura di Joselina Cruz. Now here is Nowhere, ICC New York, a cura di Christian Caliandro. Da io a noi, a cura di Anna Mattirolo, Palazzo del Quirinale, Roma IT. Hamatli & Patriae, a cura di Nicolò Degiorgis, Museion, Bolzano, IT. DISIO, nostalgia del futuro, a cura di Antonello Tolve, Sala TAC (Trasnocho Cultural) / La Caja (Centro Cultural Chacao) / Istituto Italiano di Cultura. Caracas, Venezuela.
2016 Uno di Uno. A proposito di serigrafia, a cura di Vincenzo Rusciano, SPAZIO NEA, Napoli, IT
2015 Per_forming #4, a cura di Alessandro Rabottini ed Eugenio Viola, Museo Madre, Napoli, IT XII Biennale de L'Avana, Cuba Informal Poker Room, a cura di Giacomo Zaza, Biennale de L'Avana, Cuba
2014 The go between, a cura di Eugenio Viola, collezione Ernesto Esposito, Museo di Capodimonte, Napoli, IT
AMALASSUNTA COLLAUDI - Dieci artisti e Licini, a cura di Christian Caliandro, Galleria d'Arte Contemporanea, Ascoli Piceno
Towards which planet? An Italian mood, a cura di Raffaele Gavarro, Canal05 Art Gallery, Bruxelles
2013 4th Thessaloniki Biennale of Contemporary Art, Tradition – Reversal, a cura di Katerina Koskina and Yannis Bolis, State Museum of Contemporary Art, Thessaloniki, GR
Incontri ad Eéa, a cura di Alessandro Buganza, Eszter Csillag, Alberto Di Fabio e Federica Forti, Frontone Village, Ponza, IT
School of Fine Arts, Open Studios Concert Reading, American Academy in Rome, Roma,IT
Un'Opera per il Castello, II edizione, artista finalista, Castel Sant'Elmo, Napoli, IT
Why? Because life..., Galleria Umberto Di Marino, Napoli, IT
Premio Maretti, IV edizione, selezionato da Sabrina Vedovotto, PAN Palazzo delle Arti di Napoli, Napoli, IT
Storie italiane, a cura di Laura Cherubini e Lea Mattarella, Arte Fiera Bologna, IT
2012 Nessuno e niente scompaia, a cura di Raffaele Gavarro, Galleria 1/9unosunove, Roma, IT NA.TO L'arte del presente il presente dell'arte, Ex Manifattura Tabacchi, Torino, IT
What you think you see, you see not, a cura di Nicoletta Daldanise, Galleria Umberto Di Marino, Napoli, IT
2011 Talent Prize 2011, IV edizione, Musei Capitolini, Centrale Montemartini, Roma, IT
12° Premio Cairo, artista finalista selezionato da Eduardo Cicelyn, Palazzo della Permanente, Milano, IT
2010 Fragments from nowhere, a cura di Stefano Romano, Palazzo Ducale, Sassari, IT
Transient Space – The Tourist Syndrome, Berlin, a cura di Marina Sorbello, Antje Weitzel, Neue Gesellschaft für Bildende Kunst, Kunstraum Kreuzberg/Bethanien, Berlin, D
Transient Space – The Tourist Syndrome, Bucharest, a cura di Irina Cios, Marina Sorbello, Antje Weitzel, International Centre of Contemporary Art, Bucarest
Transient Space – The Tourist Syndrome, Napoli, a cura di Marina Sorbello, Fondazione Morra, Napoli, IT
2009 qui è altrove, a cura di F. Referza e F. Poli, Palazzo De Sanctis, Castelbasso (TE), IT Emergency Room, PAN Palazzo delle Arti Napoli, IT
2008 12x12 Visual Art/Live, a cura di Salvatore Manzi, Museo PAN Palazzo delle Arti Napoli, IT Del Paese e altre storie, a cura di Denis Isaia, Palazzo Ducale, Genova, IT
Sistema binario 1, Belgrade Summer Festival, a cura di Eugenio Viola, Adriana Rispoli, Sasa Janji ́c.,Belgrade Railway Station, Belgrade, SRB
Tabula Rasa: 111 days on a long table, progetto speciale di Manifesta7, Informal tabula rasa, a cura di Denis Isaia con Raqs Media Collective, Ex Alumix, Bolzano, IT
Classroom#1, a cura di Salvatore Lacagnina, MADRE - Museo d'Arte Donnaregina, Napoli, IT Sistema binario 1, a cura di Eugenio Viola, Adriana Rispoli, stazione di Mergellina ,Napoli, IT
Gravity, collezione Ernesto Esposito, Museo Artium, Vitoria, E
2007 Laws of Relativity / La legge è relativa per tutti, a cura di Anna Colin ed Elena Sorokina, Fondazione Sandretto Re Rebaudengo, Guarene d'Alba (CN), IT
Young Talent, Art Brussels 2007, Brussels, Belgium, Galleria Umberto Di Marino, Napoli, IT
2006 Mario Razzano Prize, artista selezionato da Gigiotto Del Vecchio, Museo del Sannio, Rocca dei Rettori, Benevento, IT
Fragmented show, Fabbrica del Vapore – Careof – neon>fdv – Viafarini, Milano, IT
Fragmented city, Corso Superiore di Arti Visive (CSAV), Fondazione Antonio Ratti, Como, IT Visiting Professor Marjetica Potrč
Becoming place, a cura di Luigi Giovinazzo, Castello di San Terenzo, Lerici (SP), IT
2005 Napoli presente, a cura di Lòrànd Hegyi, PAN Palazzo delle Arti di Napoli, Napoli, IT
Those Misunderstood, Seconda Università degli Studi di Napoli, Caserta, IT
XII Young Artists of Europe and Mediterranean Biennial, Castel Sant'Elmo, Napoli, IT
Assab one, Masai Art Factory 2005, a cura di Roberto Pinto, Milano, IT
Area_prolegomeni ad una metafisica dei luoghi e del costruire, a cura di Raffaele Gavarro, Sogospatty Gallery, Roma, IT
Born Out – Specificity and Globality of the world' suburbs, a cura di Simona Barucco ed Umberto Di Marino, chiesa sconsacrata dei Concezionisti, Giugliano in Campania (NA), IT
2004 Mario Razzano Prize, I edizione, Museo del Sannio, Rocca dei Rettori, Benevento, IT
Born Out Project, ARCO 04, a cura di Umberto Di Marino, Madrid, E
2003 Born Out, a cura di Simona Barucco ed Umberto Di Marino, Napoli, IT
Awards
2019 Winner Prize Leonardo Da Vinci, Comune di Milano, Museo del '900, Milano
2015 Winner Prize ContemporaryYoung Unindustria, Bologna
2013 Winner Premio Maretti, IV edition, selected by Sabrina Vedovotto
2012 Affiliated Fellowship, American Academy, Rome
2011 12° Premio Cairo, final selection
Talent Prize, final selection, IT
Premio Moroso, selected, IT